01.24.2003
MKDA Goodies..
Raiden FAQ and MKDA Combos Gallore!
Lots of good stuff today. First off, I have recently begun work on my own FAQ (Frequently Asked Questions) for Raiden. It contains all kinds of info about the Thunder God, like bio, moves, and such, but the big emphasis will be on combos. Combos are one of the best parts of MKDA's gameplay and they are just so much fun to mess around with. For the first time ever in a fighting game I actually found the Practice mode useful for something. So I've been finding all these cool new combos for Raiden so I thought why not make a FAQ and out them all in there so anybody could make use of this valuable knowledge, "Knowledge is Power," remember?! Soo, without further a due I present to you the MKDA Raiden FAQ. It can also be accessed from the link on the right.

And second, thanks to konqrr from the MK5.org message board, I have a series of movies of combos from MKDA to post here. But first I need to give credit where credit is due. konqrr came up with the Sub-Zero combos, the Kenshi ones are common knowledge, the 22% Sonya combo is also konqrr's, the other Sonya combos are MK Legend's and the Kung Lao combo is credit to CYDvicious. I don't know the real names of any of those folks, they are just good MKDA fans I met at the said message board. So anyway, here are the combos already (they are in wmv format). Enjoy:
01.24.2003
Go MK..
MKDA Breaks One Million in Sales!
Yeah, I know that's kind of old news but I thought I'd mention it. Here is an excerpt from the official press release at Midway:



CHICAGO – January 13, 2003 - Midway Games Inc. (NYSE: MWY), a leading software industry publisher and developer, announced today that Mortal Kombat®: Deadly AllianceTM has sold through more than one million units across all platforms between its November 22 launch and the end of 2002. The game is currently available for the PlayStation®2 computer entertainment system, the XboxTM video game system from Microsoft, Nintendo GameCubeTM and Game Boy® Advance. Mortal Kombat: Deadly Alliance is scheduled to launch in Europe in February 2003.



Wow, if that's not a testament to MKDA's huge success I don't know what is. Over 1,000,000 copies in just under 6 weeks and still counting, and the game is yet to be released in Europe which will more than likely at least double that number. Go MK! Good job Midway! MKDA rocks!

For the full text of the article go here.
01.01.2003
2003..
Happy New Year!
Happy New Year to all of you MK fans out there!!!

The Kombat Kontinues...
12.31.2002
Yer of the Kombat..
The Year of the Kombat In Review
It has been an amazing year for us MK fans!! Finally, after four long years of waiting we got to play a sequel to our favorite gaming series. Mortal Kombat Deadly Alliance turned out to be an awesome game and a worthy succesor to the MK legacy (for my review of MKDA, click here). I can't describe with words how happy and excited I was on November 22, Fatality Friday, when I put the MKDA disk in my XBox and first played this amazing game. Wow, what an experience that was!! One of the things I liked most about MKDA, aside from how cool Raiden looked, was just how much the gameplay has been improved on and how deep it was. Being a sort of a martial arts buff myself I had lots of fun browsing through all the different fighting styles available in MKDA. Kudos to the MK team at Midway for creating this magnificent game. Well enough talk, I am off to playing now. Happy New Year to all MK fans out there!


11.22.2002
O, GLORIOUS MOMENT!!!
M-O-R-T-A-L K-O-M-B-A-T


I AM STARTING TO PLAY MORTAL KOMBAT DEADLY ALLIANCE NOW!! THE MOMENT HAS FINALLY ARRIVED AFTER FOUR YEARS OF WAITING!!


11.22.2002
Fatality Friday is NOW!
M-O-R-T-A-L K-O-M-B-A-T


OH MAN,I AM SO EXCITED, Mortal Kombat Deadly Alliance HAS ARRIVED!!!!!! IT IS FINALLY NOVEMBER 22, FATALITY FRIDAY, THE DAY OF THE KOMBAT, THE OFFICIAL RELEASE DATE OF Mortal Kombat Deadly Alliance!! THE DAY HAS FINALLY KOME FOR A NEW GENERATION OF KOMBAT!! THIS KOUNTDOWN, STARTED 100 DAYS AGO, HAS FINALLY KOME TO AN END!! IT IS ONCE AGAIN TIME TO PLAY MORTAL KOMBAT!! REJOICE MK FANS EVERYWHERE, THE KING OF VIDEOGAMES IS BORN AGAIN!!


11.20.2002
Fatality Friday..
The Day of the Kombat
How about we call Fatality Friday the Day of the Kombat?!


11.19.2002
thoughts..
Reflecting on MK
Wow, there's a little over 2 days till MKDA. At this point of time, I can't help but think back, more than four years ago, to the time when the wait for this game first started. Yes, it was a little after the arrival of MK4 on the home consoles that I first started wondering when will the next game in the series arrive, there was no doubt in mind that it would someday, and what would it look like. I remember taking a strall on a small university campus one day in the Fall of 1998. The streets were covered with autumn leaves, the sky was cloudy and beautiful, much like it is today, and there was this feeling in the air, this feeling of the never ending cycle of life, the year ends with the autumn, but then another one starts. As I left my mind to flow freely and ponder over that wonderus feel, I sat on a bench located near the library building. Partial pictures of different scenes and characters from MK5, that's what I thought the game would be called at the time, started apperaing and vanishing in my imagination. I stayed there for a long time and kept imagining what amazing new fighters would take the place of previous ones, in what fantastic and mysterious new realms would the plot unfold, and what innovative new features would the next game in the legendary series pack. Ah, what a magic time that was!
Wow, I can't believe my wait is almost over now. Soon all of my questions will be answered. It has been an amazing journey from MK4 to MKDA and now, in those final days and hours, I am relieving every moment of it and the feeling is undescribable. But the time for imagining and patiently waiting is almost over. We are now in the final few days before the new MK game is in our hands. What an unique feeling that is. Soon we will be once again thrown in that never ending battle between good and evil, controlling the fate of our Earth realm through the skillful and unforgettable fighters that can only be found in the Mortal Kombat Universe. It is once again time for..



M-O-R-T-A-L K-O-M-B-A-T




11.16.2002
X-Box..
XBox Rules!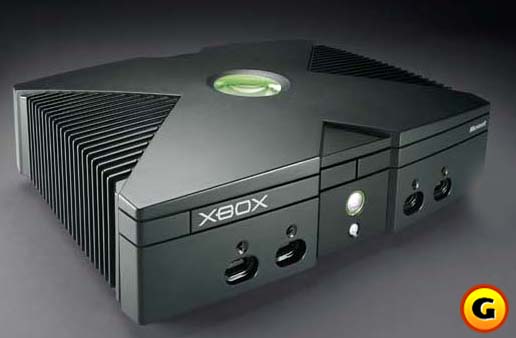 Oh, mama, finally got my XBox. He#@ yeah! I was the happiest guy on the face of Earth this Wednesday when I went to Toys Ur Us and purchased the so-o-o longed after videogame console. I've been trying to get one for months now and it finally happened. Wow, I am so happy. Now the only thing left is to wait six more days till MKDA comes out. Arghh..

This XBox on the picture is not mine, but looks exactly like it, lol!

(Image on the right is property of GameSpot).
10.21.2002
Fatality..
Johny Cage Fatality video at GameSpot

GameSpot has a brand new video of Johny Cage performing his fatality in the PS2 version of MKDA. Hurry up and check it out since it will only be available for free for a limited amount of time, after that only subscribers will have access to it:

http://gamespot.com/gamespot/filters/products/media/0,11100,551915,00.html

Also, they have updated with more images from the XBox version and the PS2 version of the game. There isn't really anything new in the XBox images and the only new ones in the PS2 section are screen shots from the Johny Cage fatality movie. Still a pretty cool update though.

(Image above is property of GameSpot).
10.20.2002
i played MKDA..
Hands-on Details from MKDA!
Some guy in Florida got lucky enough to play a pre-release version of MKDA for GameCube at the CubeClub tour there. You can read what he had to say in those two message board threads from GameFaqs.com:

http://s1.cgi.gamefaqs.com/boards/genmessage.asp?board=13780&topic=4725936

http://s1.cgi.gamefaqs.com/boards/genmessage.asp?board=13784&topic=4729753

There is TONS of info there so it really is worth checking out. I am not even going to attempt to post everything he said on those posts cause it really is a lot, I am just going to run a quick summary of some of the highlights here:
First off the guy outright says that MKDA is better than MK2 and for those of us who have been playing MK since the beginning it is obvious from that statement MKDA must really be a very, very good game.
Second, it seems the character select screen will be different from what was seen at E3 this year, consisting of three vertical columns in the middle of the screen rather then two horizontal ones at the bottom.
Thirdly, and this is something I am sure just about any MK fan out there will be happy about, the dial-up combo system from MK3 has been done away with, with more of a juggle-like combo system in place.
Apparently the gameplay is slower this time around in the sense that it will more like MK1,2 rather than MK3,4, as far as I understand it. This also is very good news as many people in the past had complaints about how the gameplay speed in MK3,4 had taken away from the quality of gameplay.
Well, that's all for now. Be sure and check out those thread. Only bad thing is I couldn't find any info on Raiden there. :-(
10.15.2002
MK on MTV..
MKDA Soundtrack Video on MTV.com
Adema's video Immortal is now available on MTV.com. Here is a direct link to their video. For those of you who don't know, Immortal is the official soundtrack for MKDA. The song was written especially for the game by the band, whose lead singer used to play MK in arcades back in the 90s. Some people on MK5.org's message baord have expressed dissatisfaction with the song and I myself wasn't entirely thrilled about it the first time I heard it, but after seeing the video I am really impressed. The lyrics are good and they definitely reflect the MK spirit, but what makes the video especially worthwhile is the inclusion of FMVs that are either from the actual game or have been created especially for the video. Either way they look awesome and I recommend this video to every MK fan out there. Another cool thing about the video is that it reveals bits of MKDA's basic plot line, but I am not going to give away anything here, you'll have to see that one for your self. And lastly, the entire video will be available on the MKDA DVD, along with a bunch of other cool MK stuff, when it ships in November.
08.21.2002
Raiden movies..
Raiden Rules II!
Here is a series of Raiden vs. movies from MKDA. All of them seem to be from the XBox version of MKDA and they look nothing short of stunning. When you watch them, be sure to pay attention to the asstounding amount of detail not only in the background but also on the characters, i.e. Raiden's mantle as he moves, jumps, falls down, etc. All of those seem so natural and simply put...so cool!! The switching between different martial arts styles looks seamless and the moves and stances realistic and authentic. This will undoubtedly bring a new level of depth to the gameplay in the MK series. And keep in mind the game is not finished yet! I know I've said it many, many times, but wow, this game looks good! Now, if I could only find something to keep me occupied for the next 93 days till MKDA's release.... (All movies are courtesy of IGN).
08.04.2002
Raiden pics..
Raiden Rules!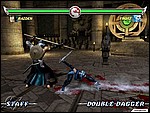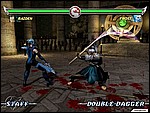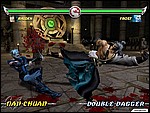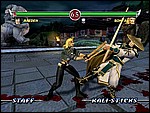 Here you go folks! Feast your eyes on these new in-game images of the Thunder God Raiden. He looks magnificent and his alternate costume is pretty cool looking too. Too bad none of his special moves were shown in any of the images. But I am sure they will be just as spectacular, and even cooler, as in any of the previous games. One thing I wonder about is whether or not he kept his teleport, considering Ed Boon mentioned in a recent interview for PSM magazine that they would be doing away with many of the magical type moves in this instalment of the series. (All images are courtesy of IGN).
07.04.2002
news..
MK:DA delayed
As GameSpot reports, Midway has announced that Mortal Kombat: Deadly Alliance will be released in the first half of their fourth quarter instead of September. That means somewhere between October 1 and November 15. I personally think that is a good thing for the simple reason that more time means a better game. Now I've waited for four years, I don't mind waiting a couple more months. What's important to me is that when MK:DA is eventually released it blows away not only my expectations, but also every other fighting game out there. For the full story click here.
03.17.2002
at last..
Enter .. Raiden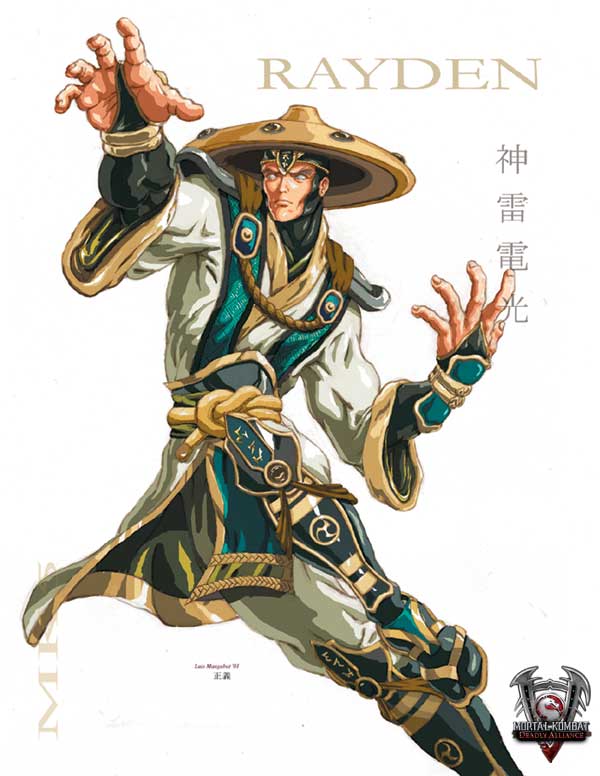 Finally, after four long years, the Great Lord Raiden is coming back on a new MK game. It's never been secret that Raiden has always been my favorite MK character. I was teriffied when back in 2000, I think, Midway sources stated he won't be in the next MK game due to him becoming an Elder God after MK4. I then launched an exhaustive one man e-mail/message board campaign to bring back one of the seven original MK fighters to the new installment of the series. Now, I am not about to give myself credit for bringing back Raiden to Mortal Kombat once again, but whatever the reason the fact remains, he is back and I am so incredibly happy. Once again, the God of Thunder will take human form to compete in the immortal tournament called Mortal Kombat. Once again, he will unleash his unmatched powers upon the forces of evil. And once again, he will be the first one I select from the select screen (assuming he is available from the beginning, that is), the first one I beat the game with, and the first one whose fatality/ies I will learn. Ah, I can almost feel it, the controller in my hand and the Great Raiden destroying his opponents with devastating combos and then, a moment of intense silence, a few quick taps on the buttons and the D-pad, and the Thunder God launches into a furious new Fatality. No other game comes even close to being so .. perfect. I can not wait, a few more months only and me and Lord Rayden will once again lock into a mersiless fight with the Dark Side, i.e. Shang Tsung and Quan Chi and their minions.
I have to say that conceptual art looks just awesome. Whoever came up with it did a great job. It totally fits Raiden's personality and he looks a lot more God-like now. The costume stays true to his previous images, yet it improves and adds on already astounding looking character. I can't wait to see what he'll look like in action and what his new fatalities will be.
I just have one question though, why are they spelling his name with a "y" in that poster on their site? Aside from the home version of MK1, 2, 3, UMK3, and MKT, Raiden has always been spelled with an "i". Well, maybe they'll change that for the game release.
Whatever the case, he looks amazing and I just can't wait for that game to come out in the Fall. Oh, and just one more thing. Thank you, Midway!
02.15.2002
more news..
Enter Shang Tsung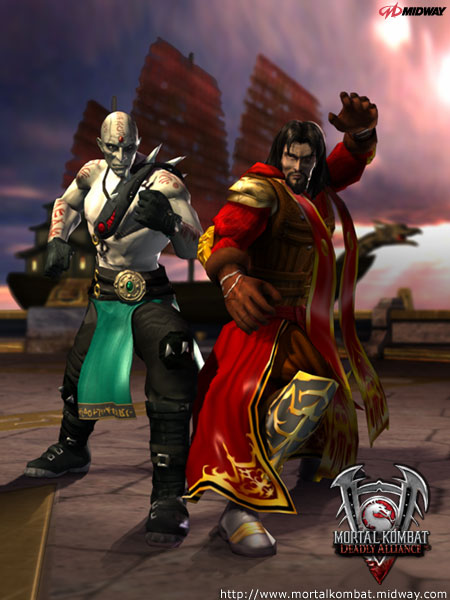 Wow, check out this cool picture of Quan-Chi and the awesomest final boss in any game, Shang Tsung. I just got that from Midway in my inbox. Does it look good or what? Well, now we know who exactly the Deadly Alliance will involve, right?
Man, that realy looks amazing! And doesn't that ship in the background bring back warm memories from the first Mortal Kombat movie?

Things are looking better and better for us MK fans with each passing day. I am so hyped about MK: DA, I think the next 8 or so months till the fall will be the longest in my life.

Oh, and I almost forgot, click here to download this awesome new wallpaper from Midway. It looks really good.
And that is not all. According to the email I got from Midway, I quote "Midway and Gamespot have joined up to bring you "Fatality Fridays" for the entire month of February.
THE Content you've been waiting for is on it's way:

Designer Diaries
Exclusive story details
World Premiere of the long awaited Mortal Kombat: Deadly Alliance preview video"

I just have one question for you Midway, WHEN are you going to show a picture of my hands down all time favorite videogame character, Raiden? Well, i am waiting!?!
And last, but not least, Midway will launch THE Mortal Kombat website February 21 http://www.mortalkombat.midway.com/. And to sum it all up, it is a good time to be Mortal Kombat fan.
02.09.2002
the logo
Team Fatalities and more..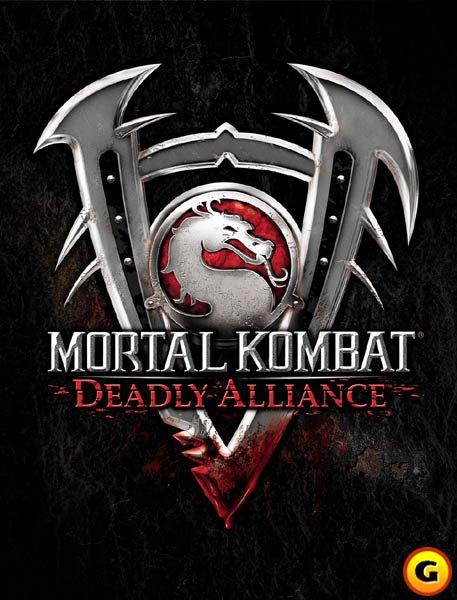 More MK news people. I got the March edition of the unofficiall PlayStation Magazine in the mail yesterday, which by the way is the only magazine I read, and they have quite a few new details about the upcoming Mortal Kombat: Deadly Alliance.
Here are some of them in no particular order:

Less Humour
Multiple Platform fighting
Greater use of 3-D movement
More sofisticated weapons combat
2 on 2 fighting

As far as the deeper weapons combat is concerend, Ed Boon mentioned in a chat back in 1999 that there will possibly be around 10-15 weapon moves per character. An inresting bit of info about the weapons combat is that chracters will reportedly take visible damage quickly when attacked with weapons. What that means is that characters will appear to be bruised like in a real life battle. Nice! It seems also that the combo system in MK: DA will look like a hybrid between MK2's and MK3's.

Another interesting piece of info from the Independent PlayStation Magazine is that according to them there will be platform fighting in the new game, i.e. characters will be able to fight from various platform, jump on them, and intercat with them in different ways. That also sounds quite interesting and innovative. Another interesting detail, that's just a rumour though, is that players will be able to perform team fatalties on defeated opponents. Wow, it just goes from good to better! So supposedly in order to accomodate the team fatalities, a new control scheme will be in place for MK: DA. I wonder if they'll still keep the Run button. I loved it.

And finally, here is the cast of MK fighters that will reportedly make it back to the new installment of the series: Raiden (YES!!), Sub-Zero, Scorpion (Ed Boon's favorite), Jax, Quan-Chi, Kitana, Liu Kang (again?? :-( ), Cage , Fujin.
The word is, and there are indications of, that Boon and co and putting in a great amount of effort in that one and are devoted to making it something really special. All I can say is, bring it on already, we've been waiting for four long years.

(credit for that one goes to the Independent PlayStation Magazine).

And on a different note, GameSpot has posted what appears to be the logo for Mortal Kombat: Deadly Alliance. Check it out at the top. It looks pretty good, I think.
01.28.2002
MK:DA
"MK: Deadly Alliance" Confirmed
Today Midway Games officially announced that the title of the next MK game will be Mortal Kombat: Deadly Alliance. Other information released in the statement confirmed that the game should hit shelves in the Fall season of this year and it is for now scheduled for release on Microsoft's XBox and Nintendo's GameCube and GameBoy Adance. The article also gives a little bit of info and history on Mortal Kombat. To read the full text click here or here.
Notice that they did not mention anything about MK: DA being released on PS2. My next statement might shock some of you, especially considering that I am currently a PSX owner and big Final Fantasy fan, but for the sake of Mortal Kombat I hope they do not release the new installment of the series on PS2. Why? Simple arithmetics. Those of us who are hard-core gamers (and know a little bit about videogames design and development) and have been following the market and the videogame industry for the past couple of years know that, with a very few exceptions, the quality of a videogame is inversely proportional to the number of platforms it is released on. In other words, the more consoles a game is published for, the less likely it is it would be a good game. Case in point, recently Capcom withdrew its support of the Resident Evil series for the PlayStation game consoles in favour of Nintendo's GameCube. They did that for the sake of not compromising the quality of the RE games by developing for multiple consoles.
In short, I would rather have a quality MK game released on one or two consoles only, rather than no so good one for every single console out there(MK4, anyone?).
01.18.2002
next MK game name update.
Mortal Kombat: Deadly Alliance
More MK news folks. As both MK5.org and TRMK report, on December 21, 2001, Midway has registered a new trademark, Mortal Kombat: Deadly Alliance. Having in mind the recent annoucements that a new MK game is in the works and that its name would most likely not be Mortal Kombat 5, it only makes sense that this would be the title of the new installment in the legendary fighting series. And what makes this sound a lot more like a fact as opposed to just another rumored is the info that, this time on December the 17th of 2001, Midway registered two new domains, http://www.mortalkombatdeadlyalliance.com and http://www.mkdeadlyalliance.com. Credit for this one goes to MK5.org again.
I have to say that I am not extremely excited about the name MK: Deadly Alliance, but if the game is good that shouldn't matter. Another thing I wanted to say was, ...just bring the %$#@ game already, we've been waiting for 4 long years(not counting MK Gold and MK: Special Forces, that is) for a real sequel of our favorite game and Midway better deliver this time otherwise there will be a lot of dissapointed MK fans and unhappy people are not very likely to reach deep in their pockets. :-)
01.05.2002
Happy New Year
The Year of the Kombat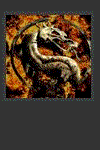 Happy New Year, O great Mortal Kombat fans!!! Finally, the year in which one of the most anticipated MK games of all time will be released, is upon us. But there is more! How many of you are aware that 2002 is also the 10th anniversary of the birth of the greatest video game in history, Mortal Kombat. Yes, it was 10 years ago that the original Mortal Kombat was released. What a great decade it has been! So because of that, I thought it would only be well fitting to call 2002 the Year of the Kombat.
So, what I am going to try to do this year is update more often and hopefully have enough time to come up with a chronicle of sorts that would give a brief history of Mortal Kombat, leading up to the release of the new sequel in the series sometimes in the fall of this year (note: that's according to Midway).
12.24.2001
more MK?? news..
Enter Quan-Chi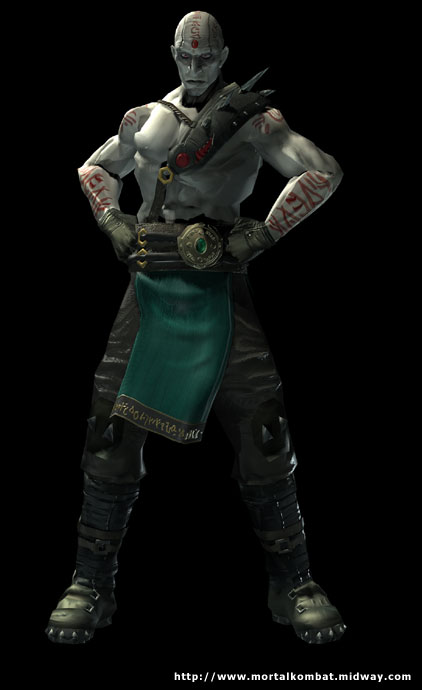 Another picture of Quan Chi has appeared at Midway's MK5(??) site. Notice the question marks after MK5, that's because we don't yet know what the official name of the new Mortal Kombat game will be. I have to say it looks kind of blocky to me, the image that is. But maybe it's just me. Anyway, finaly some new MK info from Midway which is always good.
Also, there is a link on Midway's site where you can sign up to receive updates on the next MK game. Here is the link.
(The image above is courtesy of Midway).
08.26.2001
MK5 news..
First MK5 in-game models appear on the Net.
At a recent event called Midway Gamers' Day 2001 which took place on the 16th of this month, Midway released the first two renders of actual in-game models from the next installation of the Mortal Kombat series in an in-game environment. Finally, exactly an year to the day I posted my enthusiastic report about MK5 being in development, we have the first real in-game images from the game. Hurray! Shown on the right is one of those images. Judging from the high detail in Quan Chi's model as well as the gorgeous surraroundings, the game will look fantastic, much better than anything we've seen on any platform so far. Let's hope the gameplay will be at least on the same level as the graphics, because a game is not complete without any of those components.
Rumour started at this year's E3 has it that the developers at Midway have changed their original plan to call the game Mortal Kombat 5. According to the same rumour, the reason for that is to give the next installment of the fighting series a name which would be more fitting to its purpose of reinventing the legendary videogame. One of the few known facts about the game so far is that it will be released some time in 2002, instead of as orginally planned 2001. This came from no other than Ed Boon himself in a recent chat session with him.
And on another note, there has been some interesting developments around the second one of the inventors of Mortal Kombat, John Tobias. Mr. Tobias left Midway two years back in the summer of 1999 and has recently resurfaced the gaming scene with a company of its own, called Studio Gigante. According to information from their website, "Studio Gigante, Inc. is currently contracted and developing a first-party next-generation console game." I have no knowledge as to what kind of game their are working on, but having in mind that the development team consists of John Tobias and a few other ex-members of the MK development team at Midway, I can't wait to put my hands on it.
(The image above is courtesy of TRMK).
01.06.2001
update..
1st & 2nd Annual Raiden's Words MK Tournament

Happy New Year everyone. It's been hectic four months for me, but I finally got around to updating again. For better or worse there haven't been any major developments in the Mortal Kombat Universe since my last update. MK5 is still under construction. There was a video interview with the MK5 development team late last year on MortalKombat.com in which a few new details about the game were revealed. The most important ones were that every character will now have somewhere around 10-15 moves they can perform with their weapon and that Scorpion and Sub-Zero (most likely) will be in the game. A second interview is scheduled to take place some time soon.
And on another note, the Second Annual Raiden's Words MK Tournament took place in late 2000 and it was very quickly won by the mighty warrior Xrahviperia. For those of you who missed the First Raiden's Words MK Tournament, the winner was another worthy MK warrior called Katalex. In this tournament I ask questions on anything related to Mortal Kombat and whoever answers correctly first wins. It is nothing fancy I am afraid, and yes, it is a shameless attempt at promotion on my part. And for those of you who are not familiar with who Xrahviperia is, she is one of the most active MK fans on the Internet and for some reason (it's weird, isn't it? -;) ) her MK web site is significantly more popular than mine, and can be reached at Kombat Dragon.
08.26.2000
1, 2, 3, 4, 5..

The Kombat Kontinues...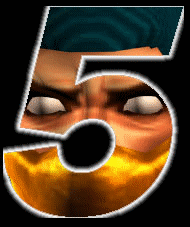 Rejoice MK fans, finally news about the 5th installment of our favorite fighting game have arrived. Everyone hurry to Ed Boon's site for the proof that Mortal Kombat 5 is in development. Please, forgive me if some of my sentences don't make much sense, but I can hardly contain my excitement at these great news. Finally, a new, real sequeal to the greatest game ever is being developed and will be in our hands some time in the near future. Yes, I realize it's just a flashing image of Scorpion's face placed in a large digit 5 and the words "in development" below it, but for the hardcore MK fan, hungry for a new and fresh MK game, that is more than enough reason for utmost joy and selebration. So, in this special for me day, I bring you the good news.
I have not been so excited about a MK game in a long, long time. MK4 was released in 1998, of course, and although quite decent, I have to say I excpected much more. It has been two long years since we MK fans have had a real reason to celebrate. Yes, it is a little premature now, but what the heck, I have been waiting for this moment for a long time and I am not going to hold back now. Yee-h-h-a-a!
Now, if they would just put Raiden in it, I would be the happiest MK fan in the world. I'll just keep my fingers crossed and hope that Ed Boon or John Tobias will somehow stumble upon my site someday. And speaking of John Tobias, you know what would make me really, really happy? If Mr. Tobias would return to Midway to work on MK5; then there will be no doubt in mind that MK5 will be a masterpiece.

......these are the words of Raiden
(The image on the right is courtesy of Noob.com).








---

Midway, Mortal Kombat, the Dragon Design and all character names are trademarks of Midway Games Inc.. All the links for the codes for the all MK games on this page are TRMK courtesy.